Kiowa Hunting Service offers private land elk hunts in New Mexico and Colorado, as well as Private Land Cow Elk hunts in New Mexico.
New Mexico Private Land Elk Hunts
These are Guaranteed License hunts that occur on private ranches in New Mexico. We currently offer hunts in Game Management Units 5A, 6A, 7, and 10. These ranches have the potential to produce 300 B&C class bulls for the hunters.
NM PRIVATE LAND HUNTS
Hunt Dates
Bow: Sept. 1-14, 2017 OR Sept. 15-24, 2017, any seven days.
Muzzleloader: Units 6A October 7-11, 2017
Rifle: Any Five Days
Units 5A: Oct. 7 to Dec. 31, 2017
Unit 6A: Oct. 14 to Dec. 31, 2017
Unit 7: Oct. 1 to Dec. 31, 2017
Unit 55A: Oct. 1 to Dec. 31, 2017
Hunt Prices
1×1: $6,000 + 8% tax
2×1: $5,000 + 8% tax
License
$639.00 – Purchased across the counter – NO DRAW OR APPLICATION.
The cost of the hunt includes: private landowner authorization, meals, guide, accommodations on some hunts, courtesy transportation during the hunt, and caping for trophy preparation of the animal.
The hunter is responsible for: their personal gear, weapon, transportation to the nearest town near the hunt area or camp, motel costs if required, and across the counter NM Elk license.
Hunts begin in early September with archery and in early October with rifle and muzzleloader, to take advantage of the rut and the bugling of the bulls. You will be hunting where we know there are elk. We have a high percentage of shot opportunity for a hunter to harvest bull elk. These hunts are not very physical.
Each private land ranch differs by terrain, elk population, the number of hunters on the ranch per hunt, accommodations, and other variables. Call us and we'll discuss the options with you and pair you with a ranch that is suitable for what kind of hunt you would like.
---
Colorado Private Land Elk Hunts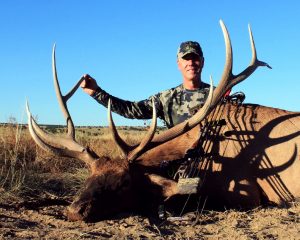 This hunt occurs in Southeastern Colorado in Game Management Unit 83. This is a great hunt with the potential of harvesting a once in a lifetime bull. This is truly a trophy class ranch where you can take that 300 plus B&C bull. This hunt does not involve an extensive amount of walking and as such is more of a spot and stalk hunt than a physically challenging hunt. Though not overly physically challenging, it is still a foot hunt. You must be able to cover areas to close the distance to the elk for a shot. It is a morning and evening hunt and not a hike the hills all day type of hunt.
COLORADO PRIVATE LAND HUNTS
Hunt Dates
Archery
September 3-8, 2017
September 11-16, 2017
September 19-24, 2017
Rifle
October 14-18, 2017 – Draw Only
October 21-26, 2017 – Across counter license
November 8-12, 2017 – Across counter license
November 15-19, 2017 – Draw Only
Hunt Prices
2×1: $8,000.00 each
1×1: $9,000.00 each
License
Non-resident approximately $600.00
Draw License Deadline: April 4, 2017
In a normal weather year this area will hold a tremendous number of bulls. The area hunted is 11,000 plus acres and runs from sagebrush flats with wetlands, to timberline and above. We will hunt this ranch during all of the Colorado seasons.. The muzzleloader, first rifle season and fourth rifle season are by draw only. It is possible to draw a muzzleloader, first rifle or the fourth rifle seasons with no points. If you have at least one preference point it has been a 100% draw in the last couple of years. Bow hunts and rifle seasons two and three are across the counter licenses. We will take only a limited number of hunters during these hunts. Your accommodations will be in the camp lodge. Catch and release trout fishing, with the appropriate license, is also available at the ranch lake.
Cost of hunt includes: guide, courtesy transportation during the hunt, private land trespass, accommodations in the ranch lodge, meals, trophy preparation of the animal, and put and take trout fishing. Airport pickup can be arranged if flying into Alamosa, Colorado.
Hunter is responsible for: hunting license, personal gear, weapon, and arrival at camp.
---
Private Land Elk Trophy Gallery
Enjoy these photos of past Kiowa Hunting Service customers and their trophies. Click an image to open the gallery.