Public Land Rifle, Bow, and Muzzleloader Hunts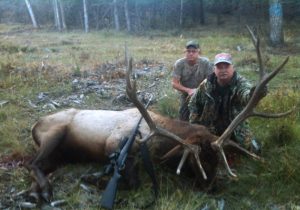 These hunts are only offered in Game Management Units 10, 51 and 52 for all weapons types (rifle, muzzleloader and bow). These hunts are designed for those hunters who are looking for a quality hunt, feel confident about hunting elk on their own and want a guide for part of their hunt, and do not want the hassle of having to bring and set up a camp.
Frequently asked Questions about Partially Guided hunts:
DIY/Self-Guided Hunts
Hunt Dates
Unit 51, Unit 52, & Unit 10 Archery Hunts
7 Day Hunts
September 7-13, 2018
September 18-24, 2018
9 Day Hunts
September 6-14, 2018
September 16-24, 2018
Unit 51 Rifle & Muzzleloader Hunts
Rifle: October 6-10, 2018
Rifle: October 13-17, 2018
Rifle: October 20-24, 2018
Muzzleloader: Dec. 1-6, 2018
Unit 52 Rifle & Muzzleloader Hunts
Muzzleloader: Oct. 6-10, 2018
Rifle: October 13-17, 2018
Rifle: October 20-24, 2018
Hunt Prices
Rifle/Muzleloader Elk Only – 5 day hunts
1 hunter: $2,200 + 8% tax
2-3 hunters: $2,000 + 8% tax
4+ hunters: $1,800 + 8% tax
Archery Elk Only – 7 or 9 day hunts
1 hunter: $2,200 or $2,800 + 8% tax
2-3 hunters: $2,000 or $2,500 + 8% tax
4+ hunters: $1,800 or $2,300 + 8% tax
Archery Elk and Mule Deer Combination – 7 or 9 day hunts
1 hunter: $2,400 or $3,000 + 8% tax
2-3 hunters: $2,200 or $2,700 + 8% tax
4+ hunters: $2,000 or $2,500 + 8% tax
Application Deadline: March 21, 2018
FREQUENTLY ASKED QUESTIONS ABOUT SELF GUIDED HUNTS:
Q: Can I have a camp for only my group?

A: We do not do this as it is against regulations to do only drop camps with no one present to guide for two days.

Q: I want to be packed into an area and checked on.

A: We do not do this because if you or I select the wrong area and there are no elk, your hunt will not be successful. Also, by doing this you have limited yourself to hunt in an area that you can only walk into. Your odds of success are less with this manner instead of being mobile.

Q: How many people are going to be in camp?</dt?

A: I do not know. These are draw hunts and it depends on the draw and how many people draw. The size of camps differ by area chosen, weapon types, and seasons.

Q: Tell me about your camp.

A: We set up one camp per unit. All hunters that are guided or partially guided are in that camp. You drive out of camp each time, to different pre-scouted locations and you are either guided or you can hunt on your own. We utilize the whole unit and by being mobile we increase your success by getting you to where the elk are.

Q: What does Kiowa furnish?

A: We provide you the outfitter number to increase your odds of drawing a license. We provide the main camp, tent, cots, pads, lights, and heat. We provide the cook, the meals, the snacks, a person knowledgeable of the area to send you to where we feel you will find elk, and we guide you for two days and retrieve your game after you harvest the animal.

Q: What does the hunter provide?

A: The hunter applies for the license, with our help, personal gear, bedroll, weapon, transportation to and from camp and during the hunt. You basically spend your time hunting… not cooking, washing dishes, or cleaning up camp.
The units that we hunt can be described as follows: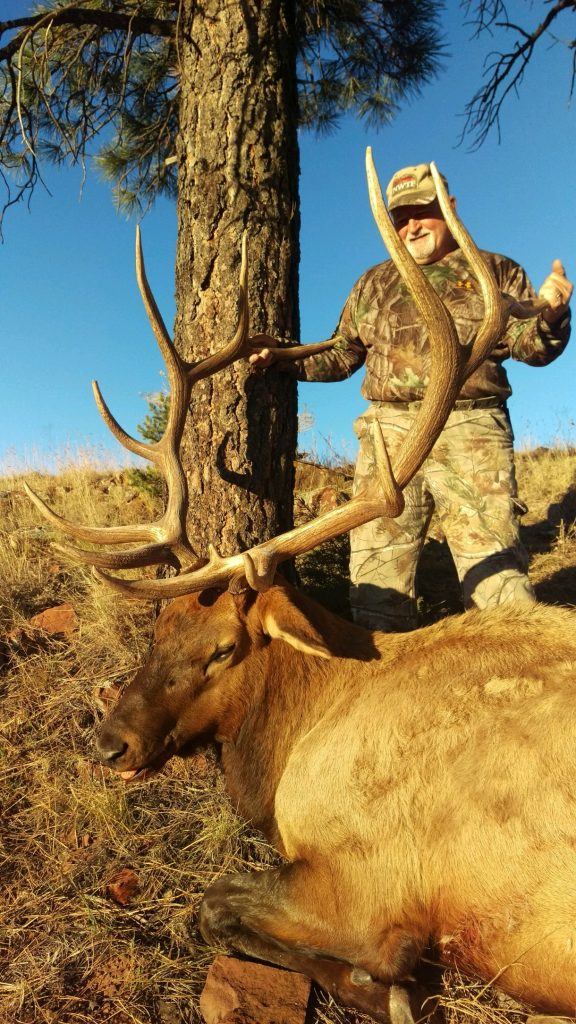 Unit 51 and Unit 52 are located in North Central New Mexico. Unit 52 is approximately 300,000 acres in size and Unit 51 is approximately 380,000 acres. Both of these units are in a roadless/wilderness area that prohibits off road vehicles and off road traffic of any type. The areas have numerous open roads within the unit, often two to three miles apart, which allows the hunter access to areas to hunt by foot. These units have an excellent elk population and the number of hunters is controlled, as opposed to Colorado's public land units. The odds of drawing a license are excellent with the outfitter number. These units offer the hunter easy access, an excellent elk population, and limited hunting pressure. This is a public draw unit and it usually offers a very high opportunity to draw a license with the use of the outfitter number.
Unit 10 – Cibola National Forest is located south of Grants, New Mexico and is on the north end of the Gila range. I consider this unit a sleeper unit. It has a smaller, but good population of elk than other units, but it has the potential to produce for you with a bull of a lifetime. Due to the makeup of the unit, Native American reservations, National monuments and private land holdings these areas provide a bull the opportunity to gain age and consequently size. We have taken bulls off of this unit that are greater than 300 B&C and occasionally one better than 350 B&C.