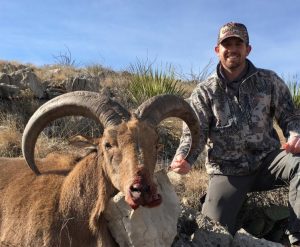 This hunt is for free ranging Barbary Sheep (Aoudad) in New Mexico. It is an excellent hunt for excellent animals. This is a park the vehicle and hike style hunt and the vehicle is seldom seen again until dark. This is a physically challenging hunt, with numerous miles of walking done each day.
Private Land Barbary Sheep (Aoudad) Hunt
Public Land Aoudad
Hunt Dates
February 1-28, 2019 any 4 consecutive days, but must include a weekend.
Hunt Prices
2×1: $3,000 plus 8% tax
1×1: $3,500 plus 8% tax
Application Deadline: March 21, 2018
 
Cost of the hunt will include: courtesy transportation during the hunt, drinks, snacks, and lunches during the hunt.
The hunter is responsible for: travel to Roswell, New Mexico, motel accommodations, meals, personal gear, and licenses. Hunters should bring comfortable day packs to carry water, storm clothing and other personal items.
Public land licenses are by draw.
The odds of drawing this tag, utilizing an outfitter number were excellent in 2017.
---
Barbary Sheep Trophy Gallery
Enjoy these photos of our past customers and their trophies. Click an image to open the gallery.