Public Land Bezoar Ibex (Persian Ibex) Hunts

New Mexico is the only place in the Western Hemisphere where you can hunt free ranging pure blood Persian ibex. They are not domestic goat cross-breeds and they are not inside high fences.
IBEX HUNT INFO
IBEX Hunt Dates
Choose any 5 days
Rifle: November 13-27, 2017
Youth Hunt: Dec. 27, 2017 to Jan. 10, 2018
Archery: Oct. 1-15, 2017, Jan. 15-29, 2018
Muzzleloader: December 6-20, 2017
Hunt Prices
$5,500.00 plus 8% tax for any five days (additional days can be booked)
The staff of Kiowa Hunting Service has 33 years and over 2,000 man-days of experience hunting the ibex. The Kiowa team has three times as many ibex entries in the SCI record book as all the other currently active outfitters combined. The book shows we consistently take larger billies than our competition during the bow hunts.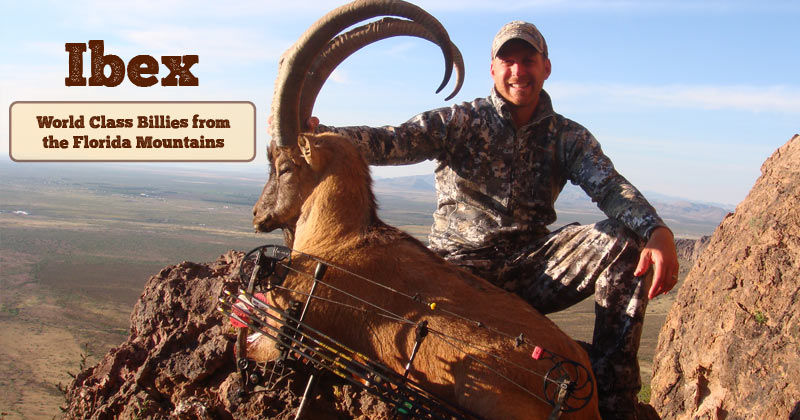 Listed within the top ten highest scoring billies in the SCI Record book, we have the #1 bow entry, the #3 muzzleloader entry and the # 5 modern rifle entry. They may be credited to other guides or outfitters, BUT those guides and outfitters now comprise the Kiowa staff that hunt Ibex. At the time of calculating these statistics, there were 84 entries (guided and unguided) in the SCI Record Book. Of the 84 entries entered in the book, there were 19 that were taken by bow and arrow. The Kiowa staff guided seven (37%) of those. Specifically we guided bow hunters for billies that rank number 1, 3, 4, 5, 12, 13 and 14. 17 entries were taken by muzzleloader, we guided four of them (24%) of those we took numbers 3, 5, 10 and 15. The remaining 48 entries were taken by modern rifle of which we guided 12 (25%) of those.
In summary of the SCI record book, of the 84 entries, 35 are shown to have been guided by an Outfitter or Commerical Guide. Of the 35 entries, 29 are credited to outfitters that are still in business today. Of those 29 entries, the Kiowa staff guided 23 (79%) of the hunters. That is why people choose to hunt with Kiowa Hunting Service.
The ibex inhabit public land on the scenic Florida Mountains from just above 7000 feet down to the desert shrub at the base. The herd is currently slightly over populated at about 800 animals, with a sustainable portion of mature billies. In fact, the SCI records show that the highest scoring rifle killed and bow killed billies worldwide came from New Mexico. A mounted billy is a stand out in anyone's trophy room. Our success is well above 90% with rifle and muzzle loader. Since our first bow ibex kill in 1988 our archery success is right at 20% which is more than four times as high as the average success for bow ibex hunters.
Hunts occur from October through January with a youth hunt during the school Christmas break. Licenses are issued by drawing. On average a non-resident is about 2 ½ times more likely to draw if he uses our outfitter number on his application. Not surprisingly, the bow tags are the easiest to draw. In the October 2015 bow season all four of our fully guided hunters got multiple shots at under 60 yards. The two billies pictured on this page were taken during that hunt.
Cost of hunt includes: Use of our outfitter number on your application, hot breakfasts and evening meals in comfortable surroundings plus snacks & drinks to carry, courtesy transportation during the hunt, the most experienced ibex guides & spotters in New Mexico, assistance with retrieval of your animal, and caping for trophy preparation.
The hunter is responsible for: Applying for the license with our help, lodging, a daypack, hunting gear and transportation to and from the hunt near Deming, NM.
---
Ibex Trophy Gallery
Please enjoy these images from our past Ibex customers. Click an image to open the gallery.