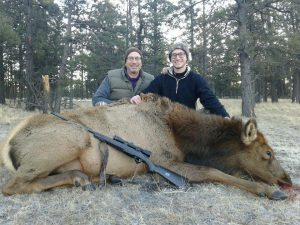 These are Guaranteed License hunts that occur on one of the largest ranches in northeastern New Mexico, which is 566,000 acres of totally private land. We have exclusive hunting rights on approximately 150,000 acres of the total ranch. This ranch holds one of the largest elk herds in the state of New Mexico, usually counting around 10,000 animals during the winter surveys. This is a truck hunt, it is not a walk the woods hunt. Most of the hunting occurs by use of vehicles due to possible weather conditions, temperatures and snow cover. We have run a nearly 100% hunter success rate for the last 20+ years. These hunts are modern rifle only and are a VERY popular hunt. You need to book early to come on this hunt and be assured of a spot as we will be full by spring. The earlier you book the better chance you have to select a date that works for you. We attempt to only take three trucks at a time on the ranch, so three day time frames book up quickly.
Private Land Cow Elk
Hunt Dates
Dec. 15, 2018 to Jan. 31, 2019, everyday but Christmas, any three consecutive days
Hunt Prices
2×1: $1,600 + 8% tax
1×1: $1,800 + 8% tax
The cost of the hunt includes: Landowner Authorization, guide, courtesy transportation during the hunt, cleaning of the harvested animal, and transportation of the elk to the Raton meat processor, or a location of your choice within the Raton area.
The hunter is responsible for: their motel, meals, personal gear, weapon, license, and charges for skinning and any processing/handling they request from the processor.
---
Cow Elk Trophy Gallery
Enjoy these photos of past Kiowa Hunting Service customers and their trophies. Click an image to open the gallery.