Kauffman Outfitters is NO LONGER A LICENSED OUTFITTER,
it is now part of Kiowa Hunting Services.
New Mexico is the only place in the Western Hemisphere that offers hunts for Pure Blood, Free Ranging Ibex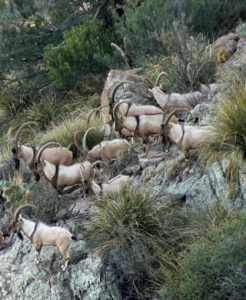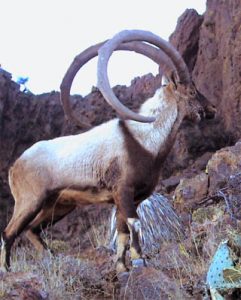 The site covers hunts through March 2017. Our price is given in the 4th
paragraph. We guide for all of the ibex hunts.
Kauffman Outfitters has been guiding for Bezoar (Persian) Ibex continuously since 1984. Our guides have a combined total of over 2000 days of experience on the Florida Mountains. Our website "double rainbow" background picture shows one small part of the Floridas.
Our 2015 merger with Kiowa Hunting Services has resulted in some of Kiowa's personnel joining us and our original ibex guides on the hunts. Our competent guides and experienced spotters always outnumber the hunters we are serving (except for our inexpensive herd reduction nanny hunts). Our service includes hot breakfasts and evening meals in comfortable surroundings plus snacks and drinks to carry while hunting.
The price is $5,500.oo plus tax for your choice of any five consecutive days of the season (no trophy fees). You may book a longer hunt if you like. Kiowa now handles all of the administrative work relating to the business. When you draw a license you may make your deposit with a credit card if you so desire. We provide free and ongoing use of Kiowa's outfitter number for the ibex hunts and also for most other New Mexico draw hunts. Using our number nearly triples a non-resident's chance to draw an ibex license. See the "Get a License" page for details about applying.
Our hunters frequently say we are the most fully honest guide service they have ever dealt with. From your first contact with us we give you understandable facts about anything related to ibex hunting. When you hunt with us, we want any surprise you have to be a good surprise. Please call or email us for a prompt (if not immediate) response to your questions. After we've answered your questions, please consider phoning our references to get their view of ibex hunting.
We use commercial quality business band two way radios. All transmissions are scrambled for totally private communication during the hunt. Based on over 30 years of experience we have built a complex system of physical reference material and accurate GPS coordinates for precise communication between our spotters and guides. Use of our unique system can save the hunters and guides much time and physical effort while providing increased opportunity as the dynamics of the hunting situation continuously change throughout each day. It's often said that we "have a name for every rock on the mountain".
Safari Club International's record book includes a listing category for entries from New Mexico. In fact the highest scoring ibex in any SCI category worldwide was killed in New Mexico. The Kiowa/Kauffman team has three times as many ibex entries in the SCI record book as all the other currently active New Mexico outfitters combined. The book also shows that we consistently take larger billies than our competition during the bow seasons.
If you have discussed elk or oryx hunts, applied for those hunts or hunted for them with Kauffman Outfitters in past years, feel free to call Dennis, Cecil or Kiowa for details about the current elk and oryx offerings. Phone number for all three can be found in the Contact Us page.